The governor of Yemen's southern port city of Aden has been killed in an explosion, officials say.
Jaafar Mohammed Saad and several aides died when their convoy was hit. Some sources say the blast was caused by a rocket propelled grenade.
Islamic State militants later claimed the attack. The group has a presence in Yemen, amid an ongoing civil war.
Houthi rebels based in northern Yemen have seized much of the country, including the capital Sanaa.
Earlier this year, Aden was recaptured by government troops backed by a Saudi-led coalition.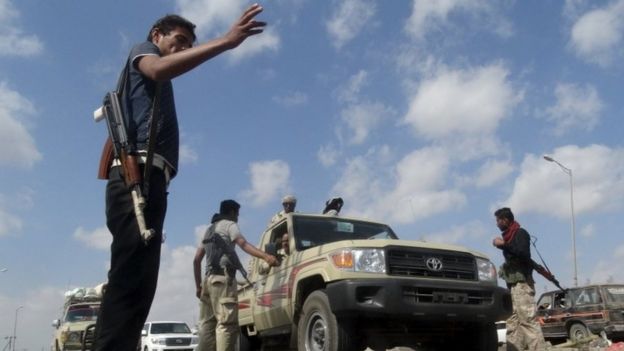 Image copyright Reuters Image caption Coalition forces backed by Saudi Arabia seized Aden from Iranian-backed Houthi rebels in July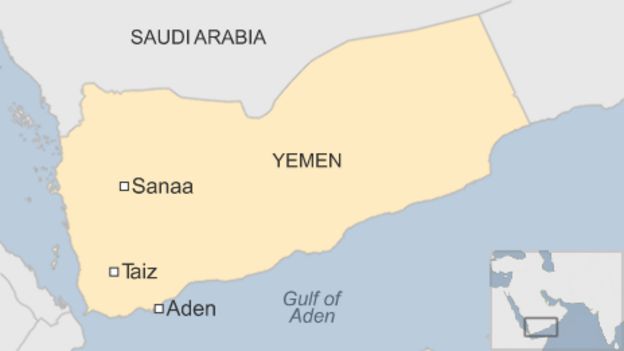 Maj-Gen Saad was reported by al-Araby to have been appointed Aden governor in October after playing a prominent role in recapturing the city from Iranian-backed Houthi rebels in July.
The latest violence came after the UN envoy to Yemen met President Abdrabbuh Mansour Hadi in Aden on Saturday, in an effort to bring eight months of civil war to an end.
Air strikes and fighting on the ground in Yemen have killed more than 5,700 people since the Saudi-led coalition began a campaign to restore the government in March, according to the UN.
The UN hopes to organise talks later this month between the government and the Houthi rebels, who support former President Ali Abdullah Saleh.
Both Islamic State (IS) and al-Qaeda have a presence in Yemen. IS declared its presence in November and have carried out a number of attacks since then.
---
Why is there fighting in Yemen?

Northern Shia Muslim rebels known as Houthis, backed by forces loyal to Yemen's ex-president, took over parts of Yemen, including the capital, Sanaa, and forced the government into exile in March
The rebels accused the government of corruption and of planning to marginalise their heartland within a proposed federal system
Forces loyal to the government and southern militias regained control of Aden in July, aided by Saudi-led coalition air strikes and troops
The UN says that fighting on the ground and air strikes in Yemen have killed more than 5,700 people since March
BBC News