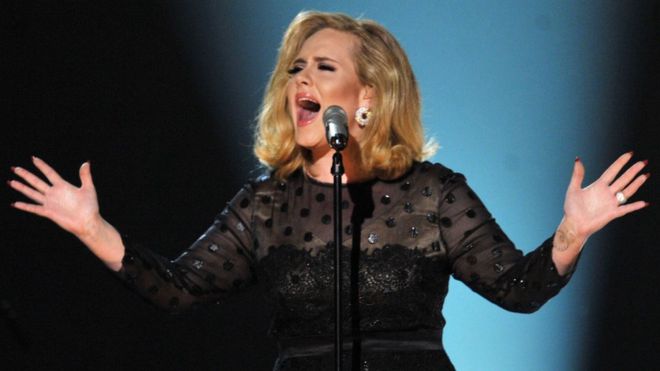 Getty Images
Adele has apparently revealed the first snippet of material from her third album during a 30-second TV advert.
The clip was played during the X Factor on ITV in the UK on Sunday, almost five years since her last album, 21.
Viewers heard a voice singing, accompanied by the lyrics on an otherwise black screen.
Her new album has been widely rumoured to be coming out in November. There was no name or release date on the clip and her spokesperson declined to comment.
The lyrics were: "Hello/It's me/I was wondering if after all these years you'd like to meet/To go over everything.
"They say that time's supposed to heal ya/But I ain't done much healing…"
The star's last album, titled 21, came out in January 2011. It went on to sell 4.6 million copies in the UK and 11 million in the US.
It won six Grammy Awards and two Brit Awards.
The producers on the new album are reported to include Gnarls Barkley's Brian Burton, Swedish hitmaker Max Martin and One Republic's Ryan Tedder.
After the clip was broadcast, One Republic tweeted simply: "Adele :)"
BBC